AD Plastik d.d.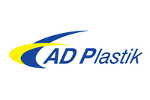 Exchange
Zagreb Stock Exchange
Industry
Auto/Trk Prts&Equip-Orig
Shares outstanding
4,199,584
Investor Relations Contact
katia.zelic@adplastik.hr
Type
Published On
Document
AD Plastik has more than 35 years of experience in the development and production of interior and exterior car components. The company is based in Croatia, but has eight production sites in five countries, from the Balkans to Russia. AD Plastic's operational activities are spread across the globe, supplying automobile producers worldwide.